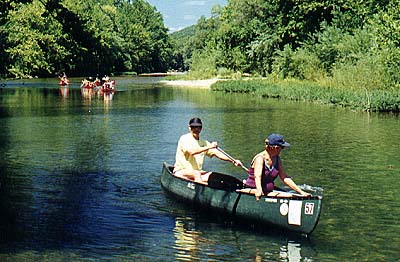 Beginners should ask for canoe & paddle instructions.
Beginners should take a short trip.
Beginners should not take young children the first time out.
Always wear old shoes for wading.
Bring along a dry change of clothing.
Bring along a thirst quenching drink: water, ice tea, etc.
Carry food and clothing in water-tight container tied to canoe.
Allow sufficient time for swimming, picnicking, resting.
Keep off private property or respect private property.
Respect fishermen and don't cross their lines.
Use litter bags and leave only tracks behind.
Use a strap to retain eyeglasses.
Lock valuables in car out of sight.
Wear your life jacket at all times.
Don't grab other canoes.
Don't tie canoes together.
No horseplay.